events
My Top 5 Events At The Combworks, Aberdeen
28 March 2023
My name is Seunfunmi and I am currently doing a Masters in Energy Law at the University of Aberdeen. I am from Nigeria and I moved into The Combworks, Aberdeen in September 2022. Having lived at my student accommodation, for over three months, I have created some wonderful memories and embraced new friendships. I have particularly enjoyed our monthly events! The Combworks is well known for its sense of community and home-away-from-home atmosphere, which has inspired a lot of events so far this year.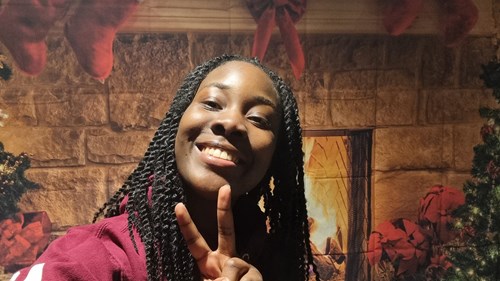 Here are my top five events so far:
SPEED FRIENDING
I was delighted to be given the opportunity to become an Event & Content Assistant at The Combworks. Which has given me an insight into the marketing and events world and collaborated with the aparto marketing and on-site team.
My first event to grow our student community was Speed Friending in September. Speed Friending is a playful spin on the concept of speed dating. We created ice-breakers, games, and learnt lots of random facts about each other. It was the perfect way to introduce us into our new student living surroundings, particularly for students like me who had just moved in, we sat by the fire and took the time to get to know each other.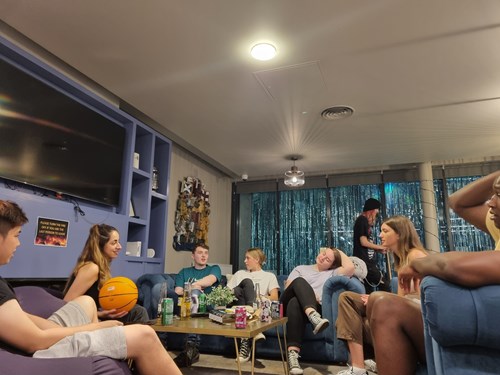 TRIVIA NIGHT
This was definitely one of the more fun and interactive events, as we got into groups and took turns answering questions, in what became a very competitive game of trivia. With five categories and ten questions, came ten opportunities for each team to come out on top. There were some great prizes to be won, including vouchers and sweet treats, making the event very competitive! It was certainly a joy to see people engaging and getting involved to win some prizes.
Personally, I am always down for a good games night. I find that the key to a great games night, is that sense of competition. There was not only a desire amongst each team to win the grand prize, but the desire to meet new people and form friendships. It made for such a memorable night and left me wanting more regular trivia nights in the future.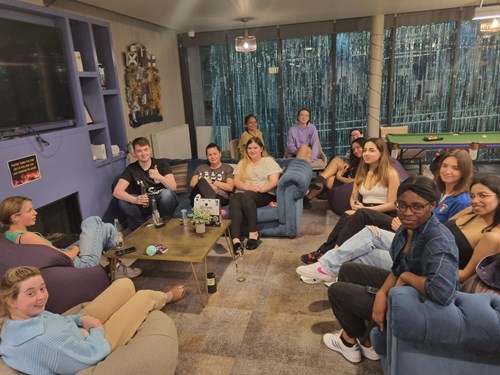 PUMPKIN AND PROSECCO NIGHT
One thing that I have picked up on, is that a fun and creative theme always goes a long way. The concept behind this event was to bring out our creative sides as we carved our very own pumpkins whilst sipping on a glass of prosecco.
This event combined one of my two favourite things: art and fancy drinks. I am certainly mediocre at creative projects like these, so you don't need to be an expert pumpkin carver to join in. However, I believe that this makes things like this more enjoyable, the objective is not perfection, it's participation.
Pumpkin and Prosecco night was a favourite at the Combworks and it was lovely to take part with the rest of The Combworks student community.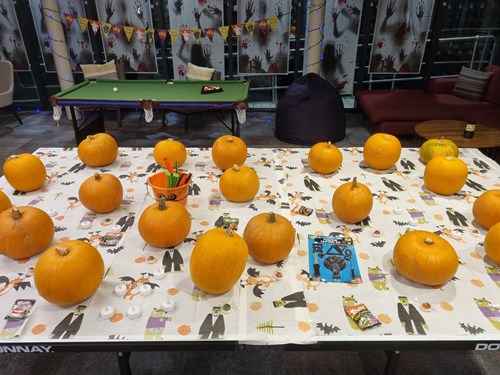 TASTE OF HOME NIGHT
This particular event has made it on my top five list because it gave people an opportunity to showcase a glimpse of what home looks and tastes like to them. This event was based around Thanksgiving in November and being thankful for good food and friends. Students put their culinary skills to the test and created a dish that reminded them of home. It worked as both an educational event and a cultural experience. Not only is it an insight into the diverse cultures we have here, but there is also something homely about food, which makes it the perfect social event - a sense of home.
Coincidentally, I enjoy cooking for other people. This event was an absolute pleasure to host with the on-site team, because I got to see other people's reaction to tasting my menu and shared recipes. I also got to indulge the inner foodie in me by trying things that I never thought I would.  Overall, I would love to run this event again on a bigger scale!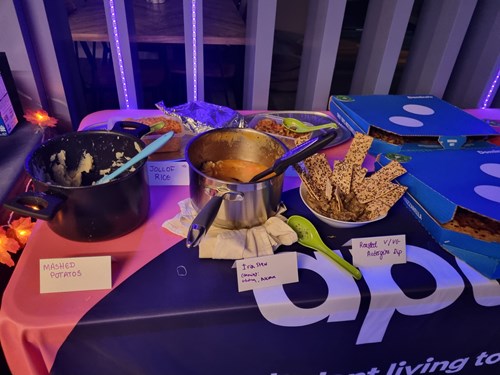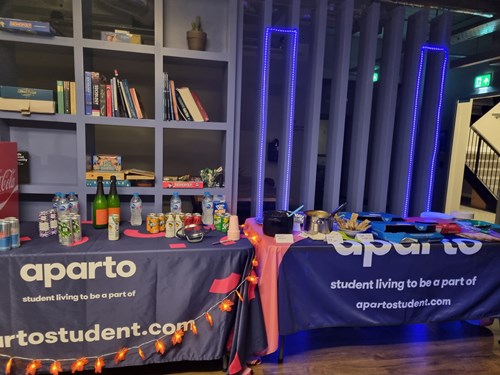 NEON NIGHT
Neon night has been THE social event of the year, simply because of the upbeat nature of it all. It was a neon themed welcome party in September, which showcased a lot of dancing (courtesy of our spectacular DJ) and a lot of eating (shout out to Hayan's Woodfired Pizza). It was so much fun!
If there is one event that I would suggest hosting, it's this one. This has made it to the top of my list because of many reasons. Firstly it brought everyone together. One of the setbacks when events are thrown, is a initial hesitation from people to attend. Despite this we had high engagement students who showed up to have a great night, different social groups coming together to interact and new friendships being formed.
Secondly, the creativity that went with executing this event was brilliant. We had so many neon themed set ups, from jelly shots to tic tac toe squares to a mini tattoo station, neon lights and hanging decorations.
Thirdly, the food on display was absolutely delicious, particularly the Halloumi Pizzas which have now become my favourite kind of pizza. Overall, this is a must attend event and I will urge anyone reading, to give this a try next year at The Combworks!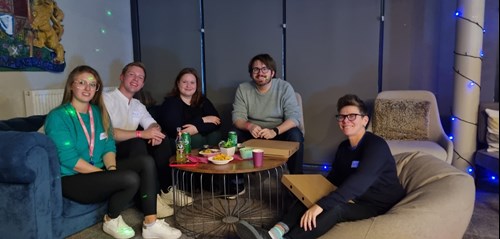 By Seunfunmi Adenugba (Resident & ECA at The Combworks, Aberdeen)