guides
Happy Hiking in Dublin!
16 March 2022
Hello! My name is Addie; I am an international student from Baltimore, Maryland in the USA, and I am a Junior at Elon University! I am studying abroad in Dublin for a semester and attending Marketing classes at the Dublin Business School. My first three weeks have been unforgettable, and I have loved living in the Liberties at Binary Hub. Binary Hub is central to everything I want to do and is just a short walk to DBS. aparto also creates a community with its residences, and I have gotten to meet so many amazing people from around the world. I am so excited for the adventures ahead and continuing to experience Irish culture and traditions! (Next up St. Patrick's Day!)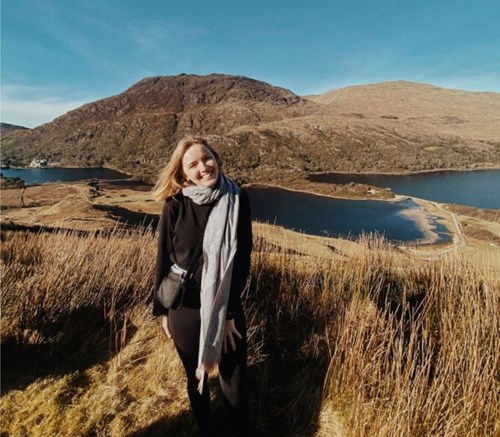 There are so many great things about living in Dublin. One of my favourite things being, how accessible other small towns outside of Dublin city are, they are so easy to get to. Especially with a student leap card, you can get some great deals and make a day trip for only a couple of euros. I have managed to see so many unique places thanks to the DART!
For my adventures, I got on the DART at Tara Street, only a short walk from Binary Hub. 
Keep reading to see the amazing places I have discovered! 
(Spoiler: Trips include a lot of hiking and great food!)
Howth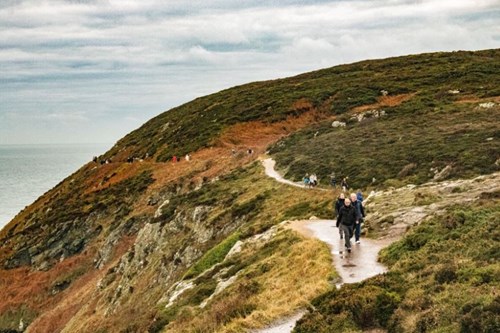 For my first weekend in Dublin, I went to Howth with some of my new found FIE friends and we did the cliff walk! It has some amazing views of the Irish coastline, Lambay Island and most of all, it was a wonderful bonding experience to get to know my new flatmates. The essentials I packed, my aparto water bottle, a breakfast bar, hiking boots and a smile!
aparto runs regular events each month as part of the Event & Wellbeing Programme, keep an eye on the Instagram and Facebook pages for updates. From cook alongs to cocktail classes and pilates to cultural events there are always events going on! aparto also runs wellbeing hikes just like the one I went on in Howth!
We tried fish and chips for the first time at Bailey Bites at Kish Fish and went to the Howth Market, where we found some handmade jewellery! We were surprised to see people swimming in the cold water in 4 - degrees Celsius. If that is your style, bring a bathing suit, maybe a heated blanket (or the famous Dublin trend - the dry robe) and a flask of tea for after your dip. 
If you go to the Howth Market (only open on weekends!), check out Oileán Jewellery.  I got a beautiful handmade Claddagh ring with a fun story behind the craftsmanship! It has 3 Claddagh hearts going around the band for his sister, mom, and aunt! I loved that it had a traditional story and was made with such sentiment. 
Dun Laoghaire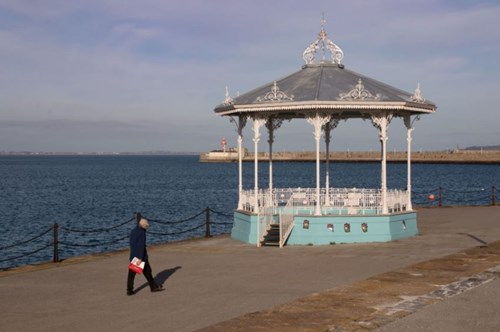 One day a week, I have no classes, so I have decided to make it my adventure day! So this Wednesday, I went to Dun Laoghaire without a plan and got to explore on my own. I had my camera and walked out to the lighthouse on the East Pier. I got some pictures of the locals and observed everyone taking their daily stroll out to the pier. I enjoyed some fish and chips off a little cart called Say Fish and then walked around to Peoples Park, and looked into all the little charity shops. They also have a mall if you need some retail therapy! Next time I'm there I can't wait to sample some of the popular Teddy's Ice Cream.
Dun Laoghaire also has a weekend market! Check it out every Sunday to try some delicious food and find some handmade gifts! 
Dalkey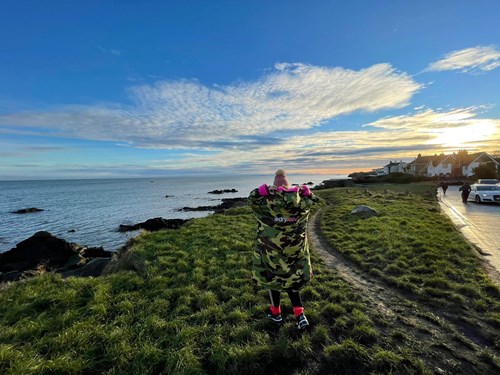 Once I figured out the DART for myself, I brought friends the next time, and we went to explore the small town of Dalkey (a popular with Matt Damon and home to Bono!). We got some delicious coffee at Mugs and sat outside to plan our next course of action. We then trekked up Killiney hill and got a fantastic view of Dublin city and the rest of the coastline! This hike has a bunch of fun trails that show you different perspectives of the coast. I would recommend this spot to all my photographer friends and anyone who loves a breathtaking view!
After our hike, we found a newly opened seafood market restaurant called Bubbas and decided to break there for dinner. I got some delicious Prawn Tacos with chips on the side. One of my flatmates is gluten-intolerant, and we were so excited that this place had gluten-free bread for her burger! We got some gelato from Bel Gelato to finish off the night. Even though it was way too cold for ice cream, we could not resist! We then hopped back on the DART to conclude this very successful trip. 
Bray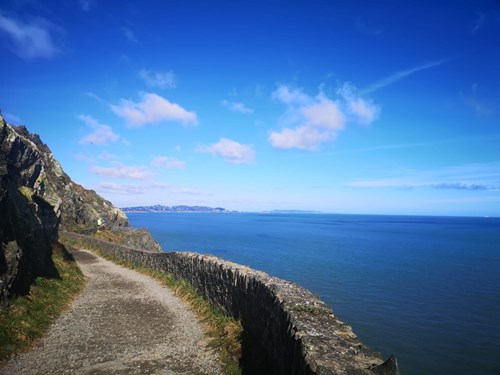 Our adventure in Bray included, you guessed it - a hike! We strayed off the beaten path this time and found a small steep path up the mountain. When we got to the halfway point, we were all a little concerned that it wouldn't lead to the top, but there was no going back down because it was way too steep! Have no fear; we made it! We got to see the cows and a breathtaking view of the town of Bray. We packed a lunch and ate it at the top of the mountain. (A great way to save money on these day trips!)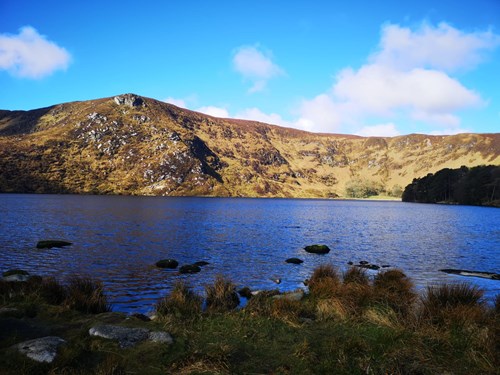 I am excited to take so many more fun trips in the days ahead. If you head out on any of these trips please let us know! The next hikes on my list are the Bray to Greystones cliff walk, The Guinness Lake in Wicklow, The Lead Mines, and Tiknock.
If you like this blog please share with your friends and family. Stay tuned for Addie's April Adventures! Get in touch email hello@apartostudent.com and follow us on Instagram and Facebook page for the latest news and event updates.