sustainability
Earth Day Everyday
20 April 2023
At aparto we recognise that home is not just where we live, it's the environment and the people around us.

That's why aparto give lots of opportunities and top recommendations to encourage our students to be a little more environmentally friendly! Get involved in saving energy, improving recycling, and finding creative ways to reuse, repurpose or donate unwanted items.

Everyone can make an impact to our local aparto community and beyond.
We are passionate about the environment, which is why
aparto won the award for Best Environmental Management at the Global Student Living Awards in 2022!



Read below the 8 ways in which #Teamaparto encourage a greener way of living!


1. Recycling & working together
In all of our residences we actively encourage our residents to recycle and dispose of waste in the correct way. We provide separate bins throughout the residences that are for recycling and general waste.





2. Feel Good Fashion Event

aparto over the past two years have joined forces with our residents to play our part in a sustainable fashion showcase and thrifting event, all for a good cause.
We are committed to playing our part in a greener way of living and to encourage residents to do the same.  Welcome the aparto 'FEEL GOOD FASHION EVENT'!
This creative feel good concept was introduced back in 2022 in Binary Hub Dublin and was such a success the marketing team expanded across to the UK in Glasgow West End, The Cam Foundry Cambridge and Beckett House Dublin for 2023.
Irene O'Brien played host to a feel-good vibe & encouraged media, resident and community friends on the night to adopt a more conscious way of thinking about fashion and upcycling with their day-to-day style!
#TEAMAPARTO encourage recycling & upcycling and will find a home for any unused food, clothes for an annual fashion show like last week's inspiring event, and toiletries go to various local charities. We try to waste nothing!
Residents in UK and Ireland set their sights on the runway – featuring 30 contemporary cool outfits created from students & staff clothes donations and Dublin Vintage – Charity stores. Here's to 2024!



3. Thrifting for a good cause

At the end of our Feel Good Fashion Events, residents and fashion show guests get the opportunity to thrift the styles that rocked the runway and further clothes donations. All of the proceeds from the night go towards a worthy charity. Our chosen charity in 2022 was
The Sick of Plastic Campaign
and in 2023 the
Irish Cancer Society
&
Oxfam
Turkey & Syria Earthquake Appeal.

Rob Thomas, Support Relations Team Manager for Oxfam GB said: "We are SO grateful to aparto for raising funds in aid of the Turkey-Syria Earthquake Appeal. The money raised will help get life-saving supplies to earthquake survivors in both Türkiye (Turkey) and Syria. The most urgent needs include emergency shelter and winter kits as well as food, clean water, sanitation and hygiene.

The Feel Good Fashion events in Dublin, Glasgow and Cambridge have also helped the planet and its people by promoting sustainable fashion. Thank you so much, we are truly grateful to aparto and everyone who took part."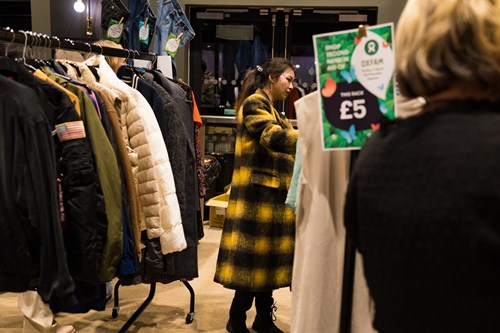 4. Switch off campaign

Throughout our residents stay we continue to encourage a greener way of living and where possible save energy. We run numerous switch off campaigns to remind students when leaving the residence or going away for the weekend, to turn off any lights and heating on departure from their student accommodation.


5. Local community partnerships
We work with the local community to build on partnerships in each of our aparto cities. We think global but act local. aparto is an international brand and anyone we collaborate with aligns with our three key values (Service | Community | Belonging) and our brand DNA.
Some examples of our partnerships include,
Taldeg to bring art to new and unusual places in our Milan residences.
aparto sponsor TUD Hurling Clubs in Dublin - TU Dublin is one of Ireland's largest third-level Gaelic Games providers in Ireland, with 22 different teams across all Gaelic Games codes.
aparto is also the Bees' "home"  250 thousand bees produce about 40kg of fresh honey, pollinating an average of 60 million flowers a day. The floristic biodiversity should guarantee a production of honey … unique in its kind! Apicoltura takes care of our rooftop beehives hosted at Milan Giovenale.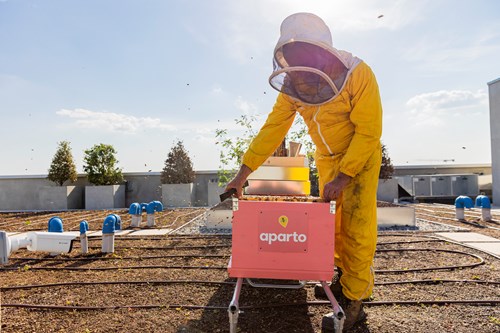 6. Sustainable welcome gifts

When our residents join the aparto family - they are welcomed by our friendly team and our nice aparto gifts! All of the welcome gifts are environmentally friendly, including the aparto lanyards, aparto's famous reusable water bottles made from ocean plastic and our reduce-reuse-recycle tote bags, also made from recycled water bottles.



7. We try to waste nothing

Whether it's the events we hold or printed materials, we try to reduce our waste to as little as possible. We reduce the amount of paper we print on site - by having digital welcome handbooks throughout the residences, we reuse our event decorations year on year and we recycle unwanted items students leave behind when they move out by gifting them to new students in need.



8. Reduce your time spent in the shower

And finally, if our residents want to go the extra mile they can save water by reducing their time spent in the shower! However, this is a personal choice, we all know nothing beats the occasional long hot shower at the end of a stressful day at university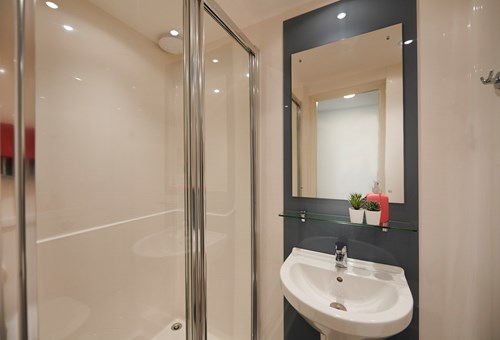 Be #apartofsustainability and send us your suggestions!
If you have any ideas of ways in which we can improve the environment around us even more, feel free to share your thoughts and drop us an email at
hello@apartostudent.com
.