inspiration
5 ways to have a more sustainable Christmas
30 November 2021
Not only will a more sustainable Christmas help the planet, it can help your bank account too. When you're prepping and planning for Christmas, stick to recycling & reusing where possible. You will find that this keeps the cost down and helps you feel as though you're doing your bit for our planet.
Number one: Wrap gifts with recycled paper, biodegradable glitter and upcycled fabric…
Most rolls of wrapping paper contain non-recyclable elements like glitter, foil or plastic. Your gifts don't need to be caked in glitter that will pollute the oceans.
A simple sheet of recycled brown paper will do, and trust me, it will look just as good. If you really want a little bit of sparkle, you don't have to give up glitter for good. Why not try out a plant-based glitter like Eco Glitter Fun. Their biodegradable glitter is packaged in glass bottles and recycled cardboard.
According to Any Junk, a rubbish clearance expert, more than half of us re-use last years paper. If you didn't save last years paper, consider saving it this time round!
You could also try wrapping gifts with fabric instead. Fabric can be reused, inexpensive and super colourful. Like #Teamaparto, why not use recycled materials, such as upcycling old pieces of clothing, bed sheets or buy fabrics from your local shop.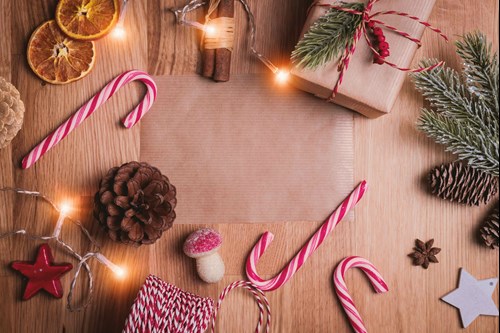 Number Two: Send your friends and family plantable Christmas cards…
It's no surprise that a quarter of us no longer send Christmas cards, with technology today we can just drop them a text, an e-card or Christmas meme. If you're someone that likes something more tangible, there is an environmentally friendly way to send cards to friends and family.
Buy cards with the Forest Stewardship Council (FSC) mark. This mark ensures that the paper has been sustainably produced, like this years aparto Christmas card. The Ethical Superstore is a great place to pick up a pack. A lot of their card proceeds are donated to various charities.
Poppy Forrest have a beautiful range of plantable cards that the recipient can sow in their garden in the spring time. Not only are you gifting them a lovely card, but also some pretty flowers, it's the gift that keeps on giving.
Don't forget to recycle or compost your cards in January. You can also turn them into decorations, or cut out the motif on the front of the card and use them as gift tags for next year.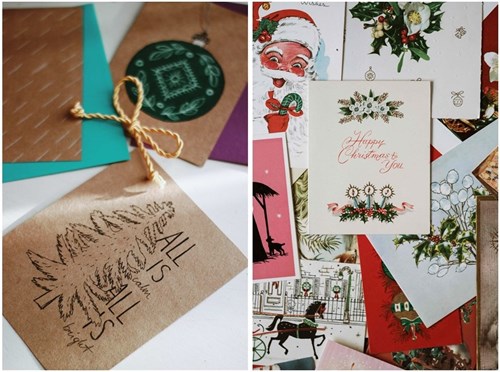 Number Three: Keep your decorations au naturel…
Whether you're at home with family this Christmas or decorating your apartment with your flatmates. Try to use natural resources such as fruit and plants that are compostable. I bet you're wondering just how to use fruit and plants to make your space feel festive, well I'm about to tell you…
Rather than purchasing a plastic wreath decorated with glittery baubles, keep it authentic and use some natural foliage, holly or off cuts of Christmas trees to create your own. Not only are natural wreaths sustainable but they are safer for wildlife if hung up outside. Here's how to create your own natural wreath.
You can also use dried oranges, berries and cinnamon sticks to add some colour and scent to your tree/flat. These can be cut out and tied up with string to create bunting or ornaments.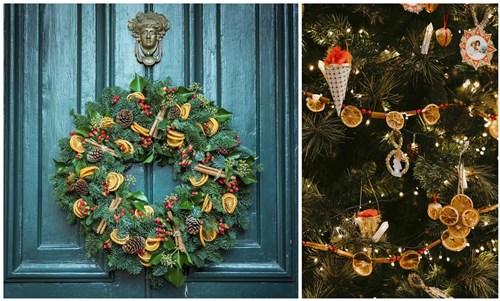 Number Four: Invest in a reusable advent calendar…
It may seem more expensive at first, but in the long term your investment will save you money. Fill your reusable calendar with a variety of sweet treats such as handmade truffles. You can even treat your furry friends to a calendar by filling one with their favourite snacks. Another great sustainable initiative.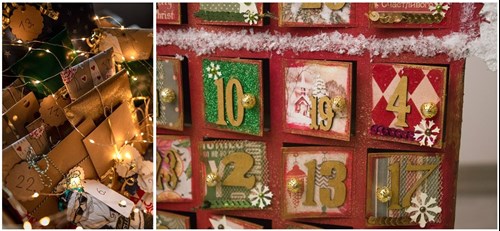 Number Five: Re-wear old outfits…
Ask yourself, do you really need another outfit that no one will see. You're most likely not going to leave your house/flat on Christmas day.
Save some money and upcycle something you've worn in previous years!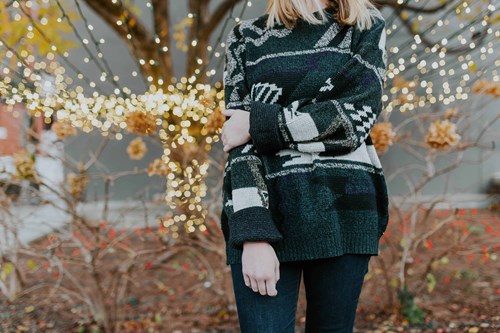 This Christmas be kind to our planet and for further sustainable updates head to our Instagram and Facebook page.