student life
What our residents say
11 March 2021
At aparto we offer more than rooms for students, when you join one of our residences you become part of our community. With a big focus on experience, you can take part in tons of fun events, from cooking classes to yoga. Take a look at what's been on.
You don't have to take our word for it, hear from our residents what they love most about aparto:
Kate, Queens Court in Reading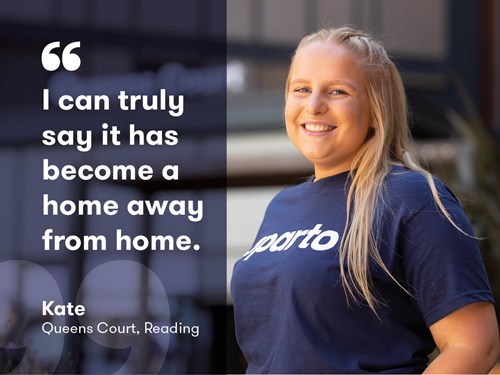 "I have lived at Queens court for 2 years I've just rebooked a room for my 3rd and final year at university. Queens court has such a welcoming and friendly environment and I can truly say it has become a home away from home. The staff and security are so friendly, and always willing to help you with any problem that you have.
Queens court is situated within the heart of Reading town centre, with amazing travel services, a brilliant night life and shops you truly have everything you need on your doorstep.
The building is brilliant at bringing all of the residents together with social events catering to everyone's needs. It's such a lovely, modern environment to live in for students with a gym, study rooms, games area and cinema room it really has everything under one roof to make your university experience one you won't forget!"
Haoran, Caton Court in Lancaster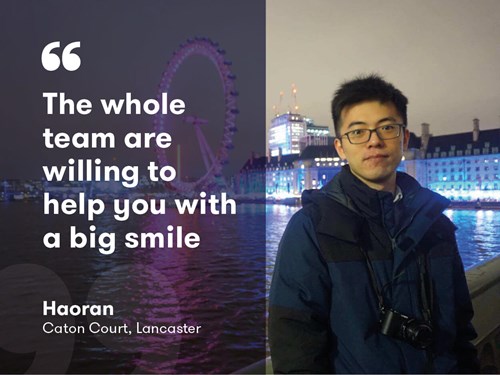 "I've got the chance to socialise with people from different cultures and backgrounds and be part of the multicultural community here.
Here in Lancaster, all the facilities are brand-new, and we even have a 11th floor sky lounge.  The staff are really nice; whenever you have a question you can just pop in at reception and the whole team are willing to help you with a big smile."
 Caitlyn, Glasgow West End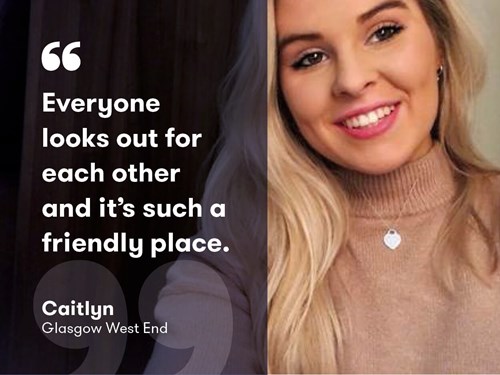 "The Halloween Party has been my favourite event, it was a massive team effort to make it really fun. The whole of our festival zone was transformed and covered in cobwebs and the DJ's setup was amazing.  It was a great opportunity for all of the residents to mix and socialise too. When you walk into reception you feel like you are part of a family. Everyone looks out for each other and it's such a friendly place."
Marnie, The Combworks in Aberdeen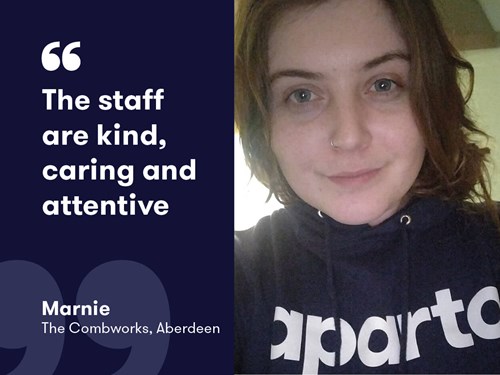 "The best thing about The Combworks is how kind, caring and attentive our staff team is! Sharon, Denise and Mike keep up with the maintenance, events, and even make lots of hot tasty dishes for us. We are very blessed to have them helping us in this important life milestone. Many of us are new to living on our own, so it's really reassuring having their presence around. 
They are all accommodating and want the best for us - and after a long day at uni, walking in and getting a wee catch up with them makes it all worth it. Plus, the hot chocolate Denise makes? It's legendary." 
Sabrina, Arbury Court in Kingston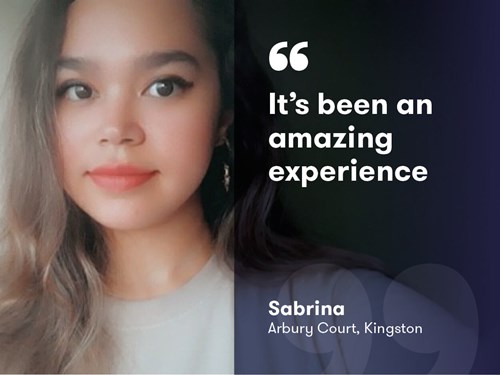 "I love everything about this residence, from the location to the friendly environment and amenities. I'm so glad I chose to be part of aparto, it's been an amazing experience, and I hope to continue being here next year too!"
Kaitlin, Binary Hub in Dublin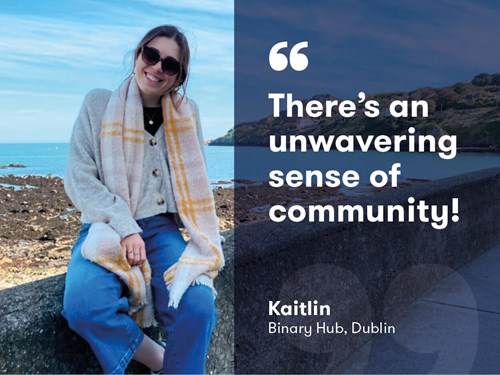 "Living in aparto's Binary Hub while completing a master's at Trinity College for the past four months has been incredibly convenient! The residential housing is only a 25 minute walk from campus and under 10 minutes from a variety of grocery and convenience stores. As difficult as it was in the beginning to adapt to a year abroad, especially in a city that's been (more or less) consistently in lockdown, my flatmates and neighbours are now some of my best friends! There's an unwavering sense of community across the multiple buildings. It's home!
Mondana, Beckett House in Dublin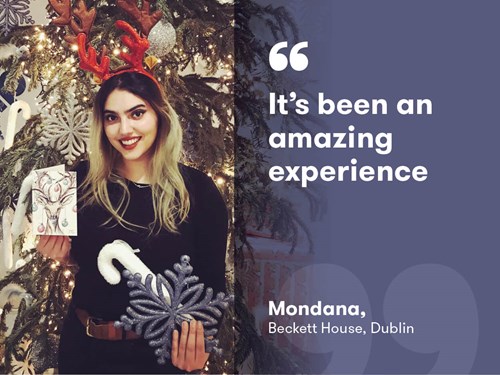 "I would like to give my sincere thanks for the amazing activities that are taking place in aparto for the 2020-2021 academic year. The events, ranging from yoga and mindfulness to cocktails and cook alongs, ensure that everyone gets involved!!! This is especially helpful and needed during social distancing. Thank you for making us A PART Of your family."