top tips
Top ten festive films to watch this Christmas
08 December 2020
Pondering what to watch this Christmas? Get your stash of mince pies ready and settle in for a festive film session this holiday season...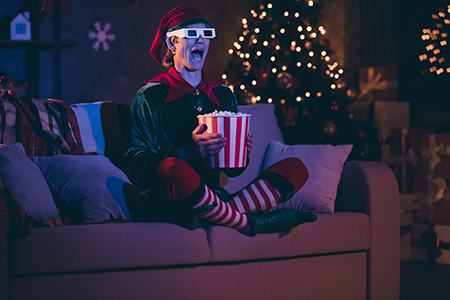 Elf
A Christmas comedy classic, starring Will Ferrell as a human raised with elves on the North Pole, he decides to travel to New York to locate his real father and spread Christmas cheer to all he encounters.
Best for: comedy, cheerful
Where to watch: Amazon, Sky
The Holiday
The Holiday centres on the story of two women who swap homes for the holidays to get away from their relationship issues. They each spark a romance with a local guy and the film depicts how this develops in a comedic and heart-warming way.
Best for: romance, feel-good, comedy  
Where to watch: Netflix, Amazon, Sky
How The Grinch Stole Christmas
Based on the Dr. Seuss book, a revenge seeking Grinch plans to ruin Christmas for the whole of Whoville.
Best for: comedy, fantasy
Where to watch: Sky, Amazon
Love Actually
This box office romantic comedy hit boasts a cast of well-known actors/actresses, Love Actually tells the tales of multiple lives of characters intertwined.
Best for: romance  
Where to watch: Now TV, Sky
Office Christmas Party
An office party gets way out of control after a branch manager throws a huge party to impress a client.
Best for: comedy   
Where to watch: Amazon
The Night before
3 friends carry out their annual Christmas eve meet up and this time go in search of the ultimate festive party, the Nutcracka Ball.
Best for: comedy   
Where to watch: Amazon, Netflix
Miracle on 34th Street
This 1947 Christmas classic focuses on the effect of a department store Santa Claus who claims to be the real Santa.
Best for: fantasy, comedy   
Where to watch: Amazon, Now TV
Muppets Christmas Carol
Nothing says Christmas story like the muppets! This musical fantasy film is a adaptation of "A Christmas Carol" by Charles Dickens and tells the tale of Christmas cynic Ebenezer Scrooge, played by Michael Caine, who journeys back in time to his earlier life.
Best for: comedy, feel good   
Where to watch: Disney Plus, Amazon
Bad Santa
Bad Santa focuses on a swindler who dresses up as Santa and attempts to rob a mall.
Best for: comedy   
Where to watch: Sky, Amazon
Home Alone
Kevin, a young boy, is accidentally left at home when his family goes on holiday and unleashes a plan of creative ways to project his home from thieves.
Best for: comedy   
Where to watch: Disney plus, Amazon 
Check out our other Christmas blogs, such as secret santa ideas and how to be sustainable over the holiday season.
At aparto, we love giving our residents the best experience with a range of regular events and a jam packed virtual events programme covering everything from cocktail workshops, quiz nights and wellbeing events. Find out where your nearest aparto is and join our community!