guides
Student accommodation: ensuite vs studio living
19 May 2021
Moving to university throws a whole load of questions into the mix, from where to study, what shall I bring and what's the low down on the local area. One key question on any student's mind is where to live and what kind of room to look for. When deciding on your student accommodation, decide what type of room best suits you. We have put together a handy guide to help you make the right choice.
Ensuite living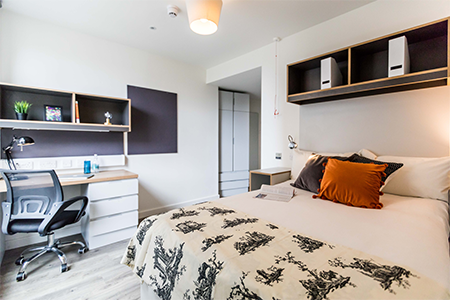 Across our aparto properties we have lots of ensuite options to suit your needs. All of our ensuites are modern and spacious, with plenty of storage and study space. You'll get your own private bathroom, desk and access to a kitchen shared with other adjoining ensuites. The amount you share with ranges from one other to 10, depending on the room type and residence.
Best for:
Those on a budget! Ensuites tend to be the cheapest room option.
Those who are keen to have shared social spaces. Choosing an ensuite gives you access to a kitchen and social space with a small group of students.
Which aparto properties offer ensuites?
At Lancaster and Cambridge residences, we also offer shared houses, which combine the benefits of affordability and shared living space!
"I chose to live in an ensuite room because I was able to choose to have my best friend as my roommate. We share the kitchen between us and it feels like a little private flat! We love watching movies and having dinner together in the evening, and still have the chance to spend a bit of time alone while still knowing she is next door!" Emily, Queens Court. 
Studio living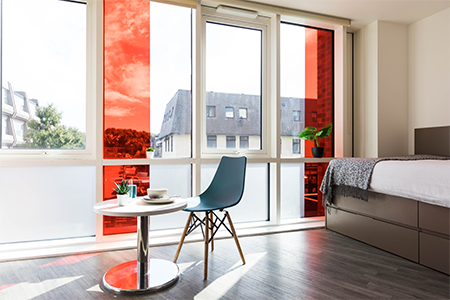 Choosing a studio gives you everything you need in one contained space. Studio rooms feature all of the same benefits of an ensuite, with a desk, private bathroom and plenty of storage plus the added feature of your own private kitchenette area. This will vary across residences but includes a fridge, sink, hob, oven and dining area. A great space to have friends over for dinner! If you're worried about meeting people, don't worry. Our regular events programme and amazing social spaces will give you plenty of opportunity to make friends.
Best for:
Those who want a bit more space.
Those who prefer to have everything in one place and more privacy.
Which aparto properties offer studios?
Whichever room type you go for, both are great options to create your perfect home away from home. Want to find out more? Find your nearest aparto in the UK and Ireland and discover our long and short term tenancy options. You can also follow the action on our Instagram and Facebook channels to see what we're all about.
Wondering where to hit up in your new city? Read our city guide for inspiration and hidden gems.