inspiration
Going green this Christmas: sustainable savings
01 December 2020
Christmas is just around the corner and green isn't just the colour of that lovely Christmas tree, it also relates to looking after the planet. After all, Christmas shouldn't cost the earth.
Did you know that a whopping 91% of plastic isn't recycled? We can all do our bit to have a more sustainable Christmas, whilst still having lots of festive fun. Here are our top tips for celebrating the holiday season, whilst reducing our carbon footprint:
Wrapping paper
Think how many metres of wrapping paper gets used over the festive season! In fact, around a million rolls of wrapping paper can get thrown out over Christmas…
We're not here to take away the joy of wrapping or unwrapping presents but there's tons of ways to shop savvy and in a more sustainable way and hey, even give your gifts an extra twist with some DIY gift wrap…
Hello fancy presents - cheap to buy and looks super sophisticated to impress your pals. Go that extra mile and add some foliage or make your own decorative design with wooden stamps.
Got a stash of gift bags that were too nice to throw away but ended up gathering dust under your bed? Utilise this Christmas by reusing - saving time, money, and the planet.
Who said wrapping had to be paper? Get creative with old tea towels, table clothes or spare fabric. You can even pick up bits of fabric in local haberdashery shops at a cheap price.
This sustainable hack can create a bespoke wrap for your gifts, or even do a mix of magazines and newspapers for added quirkiness.
DIY or reusable advent calendar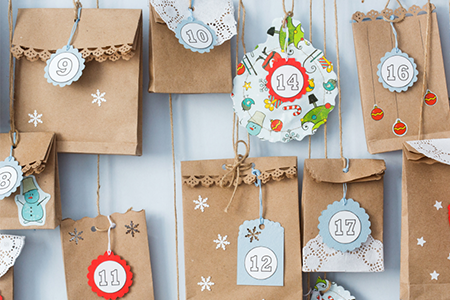 Mix it up this year with a homemade or reusable advent calendar. A great way to reduce your carbon footprint. Make your own calendar out of whatever you have to hand!
Tiny cardboard boxes, little fabric bags or cover an old jewellery organiser with wrapping paper. Decorate how you wish and fill with goodies.
Too much effort? We hear you. If that's not your jam you can buy fabric calendars which are reusable - simply fill with gifts of choice. Hobby Craft and Etsy  have got some gems.
Eco-friendly crackers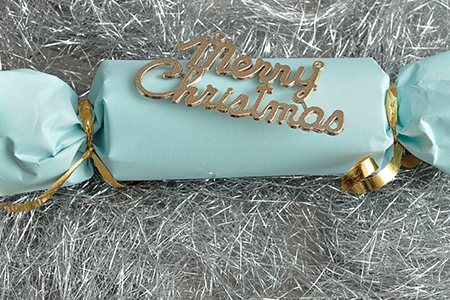 Christmas dinner isn't the same without the bang of a cracker, paper hat, bad joke and tiny toy. This year opt for an eco-cracker using recyclable material and plastic free gifts. We may miss the jumping frog and whistles that frequent a classic cracker gift, but you can get amazing goodies in eco crackers too! Some websites even have to option to personalise and add in your own treats, such as this example here.
E-card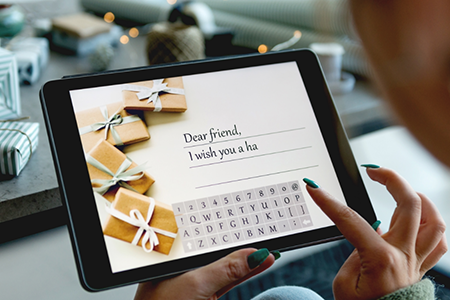 This year we have embraced digital means more than ever so why stop with your Christmas cards! Sending out an e-card is much more environmentally friendly and a great way to reduce waste from Christmas cards that just get chucked in the bin come January. You can also make these super personalised with imagery and messages!  Check out moon pig for some inspiration.
Editable Christmas decorations

This one's a good'un – be sustainable and also indulge in your favourite festive snack. Create your own editable decorations, win for the planet and win for you.
How about some Christmas cookies or gingerbread men you can hang on the tree? Or thread some popcorn and cranberry together to make some editable tinsel. You can even hang ice cream cones off your tree and fill with chocolate coins or sweets, but we can't guarantee how long they will last!
Shop local
You can also cut down on plastic and support local businesses by shopping local. Pick up your veggies from a local supplier and don't forget to bring your own bag.
Gift of giving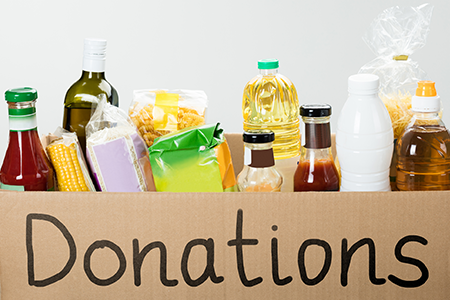 There is so much food waste at this time of year along with unwanted presents getting discarded. Give away any unwanted food tins/ clothes etc to a local charity so it can be put to good use and get friends and family involved too.
Christmas tree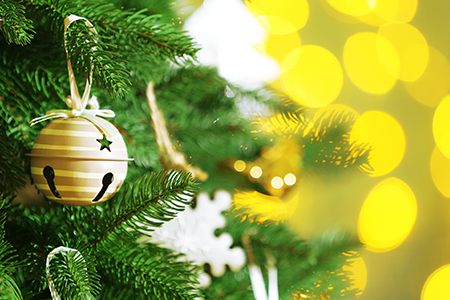 Nothing screams Christmas more than a bauble covered tree but have a look at the options as a staggering 7 million Christmas trees end up in landfill every year. Artificial trees can be kept and reused for years so they're a great sustainable alternative. If you can't bear to part with the scent of pine needles from a real Christmas tree, some sites let you rent a tree where they then return it to the Christmas tree farm to be reused next year!
Lights, camera, action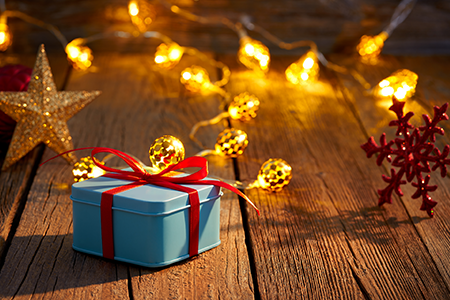 Christmas decorations and lights make for those instagrammable moments. Try to opt for LED lights which are much kinder to the environment and always remember to turn off any displays and fairy lights before bedtime to save on energy.
We hope you have a fun and eco friendly Christmas, keep an eye on our Instagram page for our latest festive updates and events.
Shopping for a secret Santa gift? Visit our secret Santa gift blog for tips to save money and give gifts with a personalised touch.