top tips
Best study apps for students
28 April 2021
With university deadlines around the corner, that summer stretch is within reach! To get through the final hurdle of exams and essay hand ins, mix up your study sessions with some top-rated apps. From handy note keeping to distraction combating apps to keep you focused.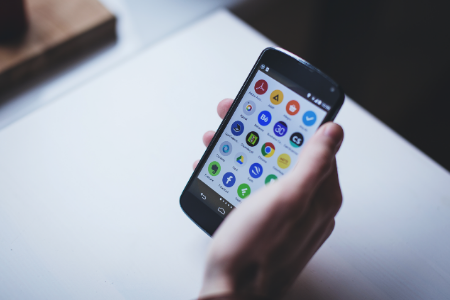 There are loads of apps which are free for android or IOS phones to help you stay on track for your upcoming exams. Here are our top picks:
Trello
A great tool which allows you to organise projects and tasks in separate boards to stay on top of your workload. You can create checklists too and add notifications, so you'll be hitting those deadlines in no time! Find out more.
Key benefits: Super visual and easy to use
Best for: Task lists and checklists
Google Keep
Another great visual aid to create those task lists in an easy, colour coded format. Create lists and labels to feel more in control of your uni work. You can even add audio and photos to Keep and set handy reminders in the run up to exam or essay deadlines. Find out more.
Key benefits: Very visual and great for colour coding. Record a voice note and get it automatically transcribed!
Best for: Notes and checklists
Forest
Staying away from distracting apps whilst trying to study can be challenging. With tons of social media networks and video streaming services, it's hard to stay focused. Using the forest app can help you get stuck in to a task. Time spent away from your phone will grow a tree within the app! The more time spent away from your phone, the more your tree will grow. Can you make a forest?! Find out more.
Key benefits: Growing virtual trees can lead to the planting of trees in real life
Best for: Staying focused and away from your phone
Quizlet
If you learn better from flashcards and quizzes, then this is the app for you. Create your own flashcards, test yourself and even share with friends for group study sessions. Find out more. 
Key benefits: Great for study quizzes with friends
Best for: Memorising and testing your knowledge  
My study Life
If concise planning is your game then My Study Life can help. This cross-platform planner is a great tool to store your homework, tasks and exams all in the cloud, making it available on any device wherever you are. Find out more.
Key benefits: A super charged calendar with all your reminders in one place  
Best for: Organising tasks and keeping track of key dates  
Evernote app
For all you note taking enthusiasts, Evernote really ups the game. Save notes in different formats, from text to images and audio. A cool feature is the ability to clip interesting articles to read later. The camera function also means you can scan any handwritten notes and simply upload! Find out more.
Key benefits: Ability to store notes in any format with a search function to find easily.
Best for: Collating notes
We hope these help you stay focused in your study sessions and smash those exams! Remember, you've got this!
Don't forget to check out our other topical blogs, such as coping with stress around exam session and our top tips for studying online.  Make sure you take regular breaks when studying and have some down time. If you fancy a pamper session, find out how you can have your own at home spa with DIY facemasks.
At aparto, we're here for you every step of the way and help create the best environment for studying and socialising. Find your nearest aparto here.